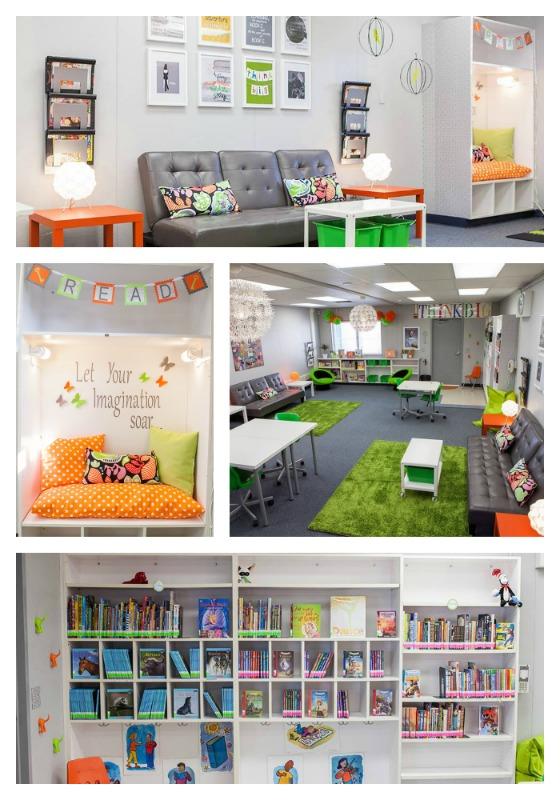 Welcome to the Reading Room! Together with our partners – the Carson Scholars Fund, The Richard Lumsden Foundation, and Excellence in Giving – we are excited to bring this new resource to our students and community. The Carson Scholars Fund is a nonprofit public charity that was founded in 1994 by world-renowned pediatric surgeon Dr. Benjamin S. Carson and his wife, Candy. Dr. Carson credits independent extracurricular reading with turning his own life around, and the Reading Room project is intended to provide a space where students can read in an inviting, quiet and secure atmosphere. Financial support for the room was provided by The Richard Lumsden Foundation, and it was our honor privilege to host our funder Mrs. Doris Lumsden, and her daughter Lesley Iritani, who visited our room in person. Both Mrs. Lumsden and Ms. Iritani live right here in Sacramento.
As you can see, the David Lubin Reading Room team has brought its considerable talents to this project, completely transforming our room into that peaceful space envisaged by Dr. Carson. The theme of the room is "Reading is Key" and our dedicated team of teachers worked tirelessly to make that vision into reality, investing time, energy, and effort after school and on weekends.
We want our room to help create a literacy-enriched environment for children to develop their reading skills and encourage students and families to come together to and recognize the importance of reading for pleasure. Our teachers will be able to bring their students to the room to do this during the school day, and we would also like students to be able the choose to read at recess, and lunch recess. This is where we need the help of our community. We need volunteers to staff the room during these times, so that our students have this option. Watch this space for ways in which you can help!