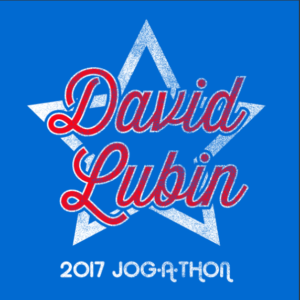 The Jog-A-Thon has raised over $10,000 each year just in pledges collected by our amazing students!  All students are able to participate and each child receives their very own t-shirt.  All funds go toward enrichment activities at David Lubin and we raise awareness of the importance of being physically active.
Mark your calendar for Friday, March 10th for the 12th Annual David Lubin Jog-A-Thon!
You can also download a pledge form
here
.
Are you interested in volunteering?! We have lots of opportunities from donations of items to working the day of the event.
SCHEDULE:
9:10 – 9:40: Second Grade (Guinan-Blaney, Konkel, Lydon, Sutton)
9:45 – 10:15: Kindergarten/Preschool (Ghfouri, Hanson, Hjaltalin, Robbins, Willow, Wittenborn)
10:20 – 10:50: First Grade (Alvarez, Godinez, Milton, Sandles)
10:55 – 11:25: Fifth Grade (Williams (DHH), M. Williams)
11:30 – 12:00: Third Grade (Boulos, Cataline, McBride)
12:40 – 1:10: Sixth Grade (Polo, McDonnell, Ronsheimer (5th/6th split), Thomas)
1:15 – 1:45: Fourth Grade (Battan, Brewer, Kinunen)
We would like to thank our wonderful sponsors!
Cotton Shoppe
Ginger Elizabeth Chocolates
Jennifer Hayes, Lyon Real Estate
La Trattoria Bohemia
Councilmember Jeff Harris, District 3
Eyes on J Optometry
Scout Living
Laugenour & Meikle
Mr. Pickle's Sandwich Shop on Folsom Blvd.
Team Tina!
Oakview Insurance Services
El Novillero Restaurant
Detail Maniac
Milk Man Toner Company
For opportunities to donate, volunteer, or if you have questions, please contact Sarah Phillips.